Dear Evergreen Customers, With the outbreak of the Coronavirus we have no plans to alter schedules or routes at this time. We know that Sanitation is important and we want to continue to service the community without disruption.
Please make sure your trash bill is paid and current.
Please make sure you limit any contact with our drivers and loaders.
Please take a few minutes each week to disinfect your containers.
Please make sure you are bagging all of your garbage but not recyclables.
Please make sure you have everything out before 6am the day of your pickup.
Thank you for being an Evergreen Customer!
You can now Text us requests or questions at 302-635-7055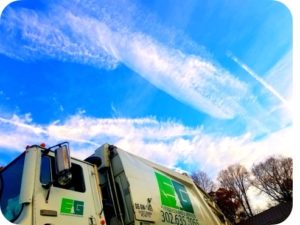 In order to better serve you, our employees have elected to work all holidays, except Thanksgiving and Christmas. There will be NO CHANGE in the schedule for Memorial Day.  Therefore, trash and recycle collection will be on your regular pick up schedule for the week of May 25th 2020. Please be sure to have your trash and recyclables curbside, the night before, to ensure that you are not missed.
The staff at Evergreen Waste Services would like to express our gratitude to all the service men and women of this country, past, present and future.                                                                                                      Thank you for serving our country and protecting our freedoms. God bless you and God bless America!
Evergreen Waste Services is a locally owned and operated recycling and hauling company servicing  New Castle County, Delaware.
Evergreen Waste Services offers consistent, professional and quality service at a reasonable price. Our services includes residential collection, with recycling and yard waste serviced weekly on the same day. In addition we provide roll-off and commercial services
As a community oriented company, we are dedicated to providing efficient and economic waste hauling service to our customers. Please take a moment to browse through our site to learn more about our company and the services we can provide. If you have any questions or comments, please feel free to contact us. We look forward to hearing from you!