In order to better serve you, our employees have elected to work all holidays, except Thanksgiving and Christmas. There will be NO CHANGE in the schedule for Labor Day. Therefore, trash and recycle collection will be on your regular pick up schedule for the week of September 2nd, 2019. Please be sure to have your trash and recyclables curbside, the night before, to ensure that you are not missed.
The staff at Evergreen Waste Services would like to wish you and your family a happy and safe Labor Day!
"All labor that uplifts humanity has dignity."
— Martin Luther King, Jr.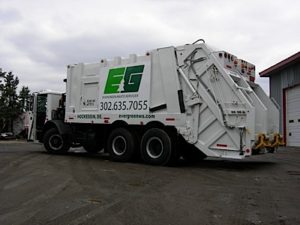 Evergreen Waste Services is a locally owned and operated recycling and hauling company servicing  New Castle County, Delaware.
Evergreen Waste Services offers consistent, professional and quality service at a reasonable price. Our services includes residential collection, with recycling and yard waste serviced weekly on the same day. In addition we provide roll-off and commercial services
As a community oriented company, we are dedicated to providing efficient and economic waste hauling service to our customers. Please take a moment to browse through our site to learn more about our company and the services we can provide. If you have any questions or comments, please feel free to contact us. We look forward to hearing from you!