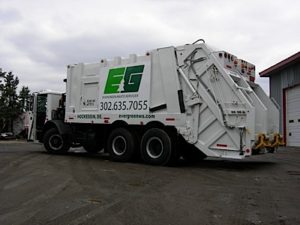 In observance of Christmas, our office will be closed Tuesday, December 25th, 2018.   All collection services for Tuesday, Wednesday, Thursday and Friday will be one day later.
⦁ Tuesday pick-ups will be on Wednesday
⦁ Wednesday pick-ups will be on Thursday
⦁ Thursday pick-ups will be on Friday
⦁ Friday pick-ups will be on Saturday
There will be NO CHANGE in the service days for customers that have there regular trash and recycle collection on Monday.
On Saturday, in order to get our employees home to their families, we will start earlier than normal.  Please be sure to have your trash and recyclables curbside the night before to ensure that you are not missed.
We will resume our NORMAL scheduled pick-up on Monday, December 31st, 2018.
There will be NO CHANGE in the schedule for the NEW YEAR'S HOLIDAY.  Therefore, trash and recycle collection will be on your REGULAR PICK UP DAY FOR THE WEEK OF DECEMBER 31ST, 2018. 
The staff at Evergreen would like to wish you and your family a Merry Christmas and a Happy New Year!
Evergreen Waste Services is a locally owned and operated recycling and hauling company servicing  New Castle County, Delaware.
Evergreen Waste Services offers consistent, professional and quality service at a reasonable price. Our services includes residential collection, with recycling and yard waste serviced weekly on the same day. In addition we provide roll-off and commercial services
As a community oriented company, we are dedicated to providing efficient and economic waste hauling service to our customers. Please take a moment to browse through our site to learn more about our company and the services we can provide. If you have any questions or comments, please feel free to contact us. We look forward to hearing from you!